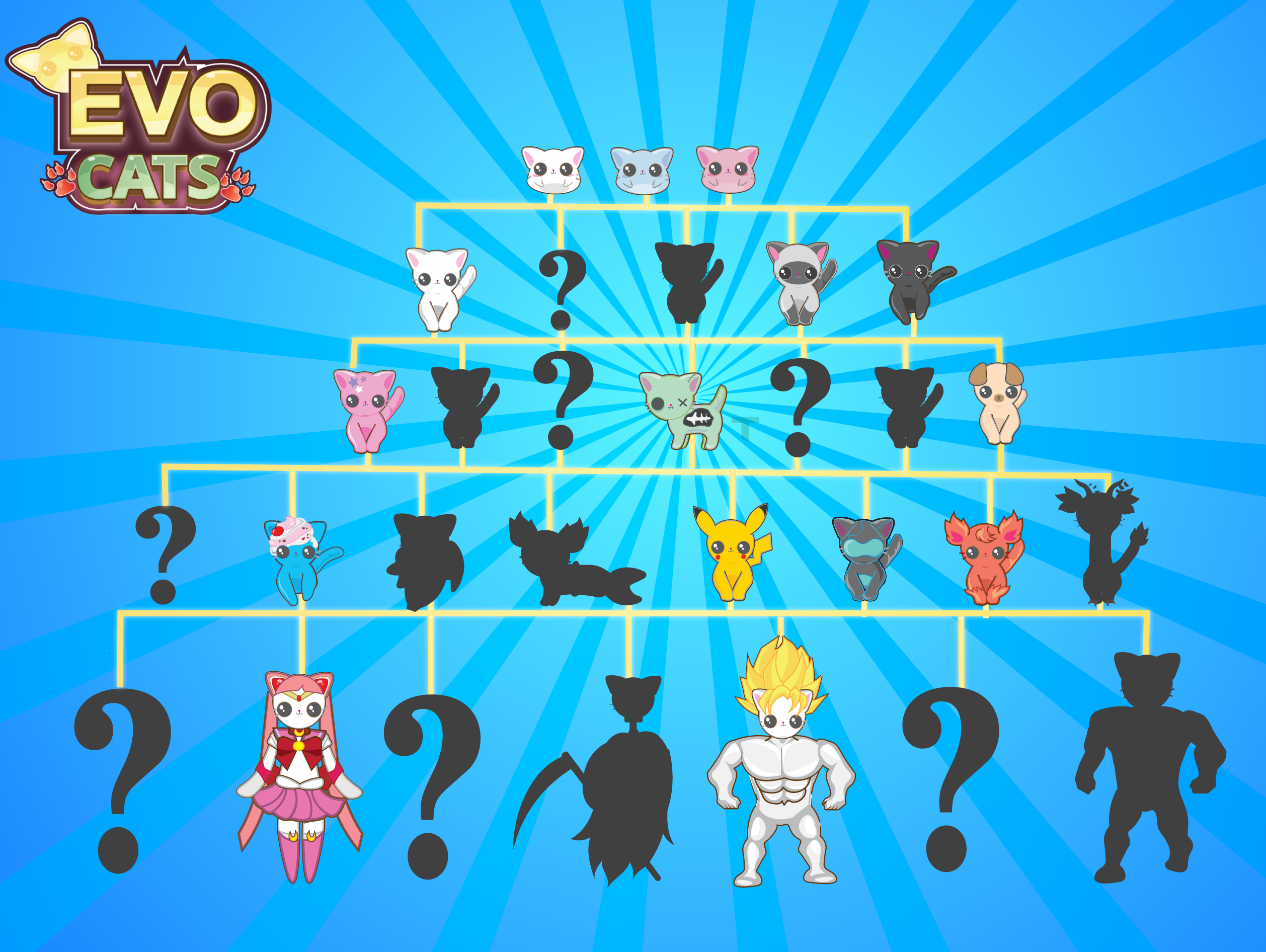 Evo Cat Virtual Pets
Adopt a pet and care enough for it to evolve into your favorite virtual cat. Evo Cat is a tamagotchi themed game that plays differently then other cat games. There are various cute cats & angry cat and funny cats to evolve into. Taking care of your virtual pet is important. You don't want a grumpy cat after all. A true games with cats and kittens. Customize your pet playpen with a variety of furniture to boot
With over 30+ different types of evolutions, Your virtual cat will evolve up to four times similar to other tamagotchi games.
A cat will first start as a Newborn then grow into an Infant > Child > Adolescent > and Adult as the final phase of evolution. Pet evolution depends on various stats such as Strength, Intelligence, Dexterity, and Luck.
Cleaning, feeding, and playing with your cat also increases your stats. not taking care of your pets can decrease certain stats as well you dont want a grumpy cat. A unique twist to cat games allowing players the chance to evolve and take care of their virtual pets.
Not only does our cat simulator allow you to evolve your pet; you can also buy and place furniture all around your home. Design a unique home for your pet to live in and choose where to place your furniture. A feature that other cat games lack!
Various mini games to enjoy allowing players to raise the stats of their virtual pets as well as collecting in-game coins to purchase furniture and to play games with cats
Feature Summary
- Adopt a pet over and over and try new evolutions
- Daily login rewards
- Tamagotchi features such as growth and caring system
- Unique twist to a cat simulator with four growth evolutions
- Various Cute Cats and Cool Cats to Evolve into as well as funny cats and angry cat
- Over 30+ pet Evolutions (stats determine which evolution you get)
- Buy Furniture to place in your cat pet playpen
- 4 mini games with cats
- Dressup your virtual cat with clothing and accessories
- Brush, Clean, Feed your pets so you dont end up with a grumpy cat
Cute cats & cool cats as well as angry cat and funny cats are waiting for you to collect and evolve in this one-of-a-kind pet & cat simulator.
Available on